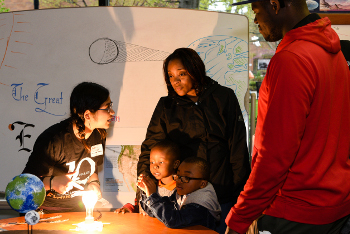 Showing visitors how eclipses work.
Photo by A. Robinson (2017)
ImagineRIT
is an annual campus-wide event held by the Rochester Institute of Technology to showcase the work of its students, faculty, and staff. The Astrophysical Sciences and Technology program has been a regular contributor to this event. I was the co-coordinator for the 2017, 2018, and 2019 AST exhibits, where we put up interactive tabletop models to explain how physical and astronomical phenomena works, a game of trivia with cool prizes, and telescope scale models.
---
I was a member of the local organizing committee of the 2018 Conference for Undergraduate Women in Physics (CUWiP) hosted at RIT. More information can be found on the
official RIT CUWiP website
.
---
Guest speaker at the Astronomy Afternoon Cafe Hangout on April 27, 2017 [View on Youtube]
Annual Astrophysics table at the Celebrate Science + Math event during RIT Brick City Homecoming weekend (mid October)